Discover more from Jessiwrites
A biweekly newsletter for people who are trying to make sense of how we live and work, and build technology that enables our humanity.
Over 1,000 subscribers
Who we must be now
Rethinking work, life, and meaning in a digital age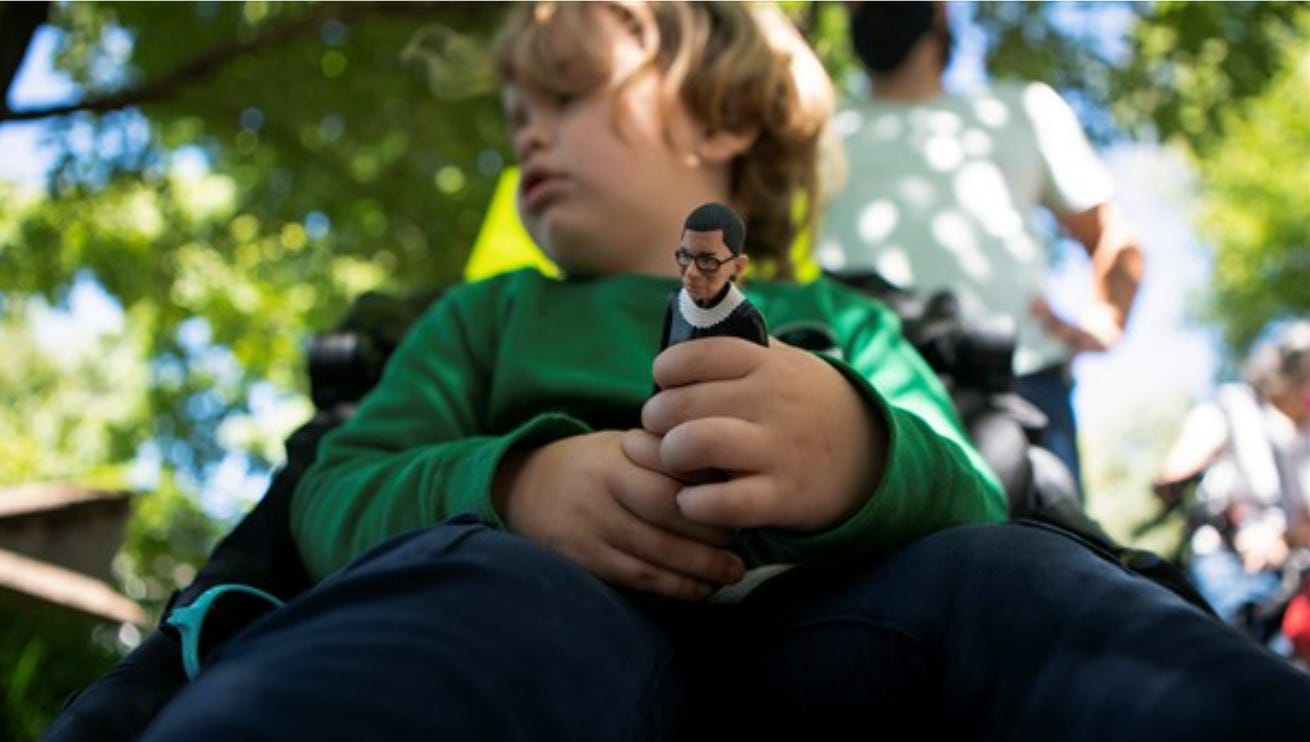 Where were you on Friday night? I was sitting down to dinner with my inlaws in Tupelo, Mississippi. It was our first meal together in a home that my wife and I have spent the last four years building.** Jude sat propped on a pillow on a chair, now big enough to hold his own fork. We were as happy as we've been in 2020, and aware of that happiness. Like so many people who were celebrating the Jewish New Year that evening, we were actually counting our blessings when my mother-in-law got the push notification on her phone: Ruth Bader Ginsburg had died.
No! No. I could find nothing to celebrate after that. All weekend, I've been numb, exhausted, aware that I can feel myself retreating inward. I have been irrationally sad. 
I call this sadness irrational because who didn't see this coming? RBG was 87. We knew this. She had cancer. We knew this. She was never going to live forever.
And yet, her death represented more than the end of her life. For many of us, RBG has become synonymous with our country's greatest ideals. The power in her diminutive presence, her ability to impact the system through reason and intellect, her strength of character in expressing dissent, even and perhaps, especially, her ability to forge friendships and tend community outside of her ideology. These are traits that underpin a healthy democracy.
Like RBG, our country's democracy has been growing feeble in recent years, showing its fragility. This idea that we all get a say in the way we are governed, and that the sum total of our voices will constitute the wisdom we need to address this moment in history: will it, too, die?
It's been two months since I've written this newsletter, and since I've written anything substantial at all. The threats feel too large and amorphous. Every day we cross lines that heretofore seemed uncrossable. Just 44 days from now is the election. Already, we are preparing for the worst kinds of outcomes.  So many people I know have so little hope that it will happen in an orderly, fair fashion.
So many people have so little hope. Right now, more than ever, we're scared and tired and yes, in moments we teeter on hopelessness. This is dangerous. Hopelessness will be our defeat. As U.S. representative Alexandra Ocasio-Cortez wrote this weekend: "That is exactly what opponents of democracy need to succeed."
Where do we find the strength to believe in our future? Here, many people I respect and love are urging us to take action, to DO all that we can do now. Find those voices. Follow them. Whatever your political leaning, whatever your vision for our country and for your local communities, work toward it. (For progressives, I often look to people like Jeff Berman for direction on this.)
But I submit that DOING—taking action—is not enough, or even the most important thing here. This is the moment to ask who we must BE. One of my brother's friends is a prominent Buddhist teacher. His name is Lama Rod Owens. As I was scrolling through Twitter early Saturday morning, I found his voice tucked among the RBG tweets: "You must understand that u must choose to consume all of this chaos or it will consume u," he wrote. "Face the chaos, let your hearts break, ask to be cared for, be uncomfortable, accept everything as it arises," he urges, "& then do the work to change what needs to be changed."
RBG has died. But her trajectory was never the measure of the strength of our democracy. Let's mourn her powerful, significant life. But do not mourn our country. Instead, let's turn into the chaos together. Let's be the leaders we need in every moment. Let's lean into hope wherever we can find it.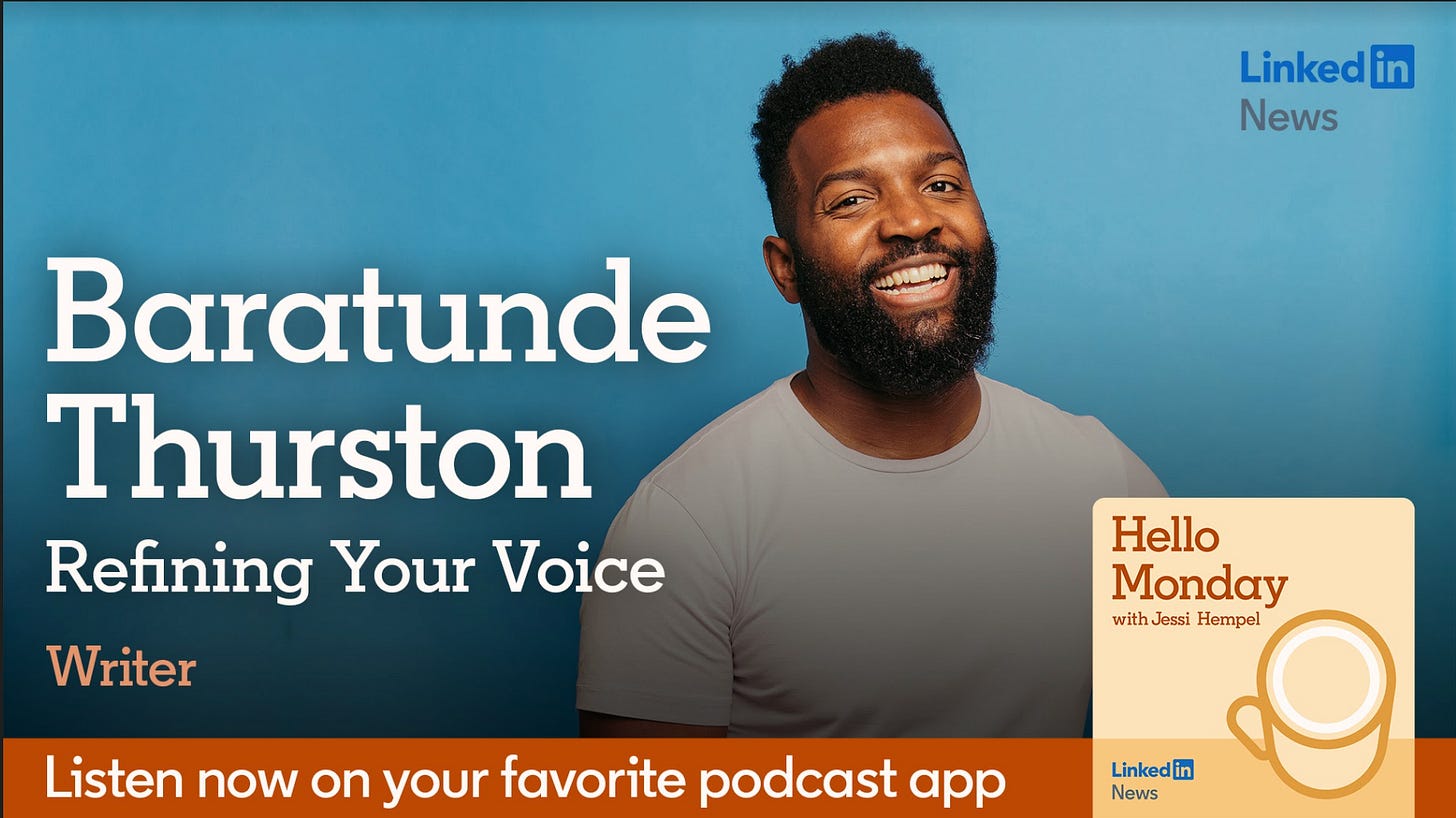 🎙Things I've made: We've published a lot of Hello Monday episodes since I last wrote. Check out the archives. I'll highlight three stand-out episodes: (1) I had a great conversation with writer and thinker Baratunde Thurston about the internet, race, and how he found his public voice. (2) I spend a lot of time worrying about what the pandemic means for womens' careers. (3) I spoke with psychologist Lisa Orbe Austin, who coaches people dealing with imposter syndrome. This one really struck a chord for listeners.
📚Things I'm reading: I've been reading books recently. I'm halfway through Octavia Butler's Parable of the Sower, a book written for our time. How did I wait until now to read this? If you happen to know the ending, don't give it away. Of the half-dozen memoirs I've read this month, I'd point you to heavy by Kiese Laymon. Laymon writes beautifully and painfully about growing up in Jackson, Mississippi.
Also, take a slow and long read through Zoe Hitzig's first collection of poetry, Mezzanine. Zoe is working toward her PhD in microeconomics at Harvard. Our correspondence has often centered on the dynamics of, say, ride-sharing services in Southeast Asia. And this work finds its way into her poetry in surprising ways.
I love Ben Smith's profile of Zeynup Tufekci in the New York Times. He writes: "The success of Dr. Tufekci and others like her at seeing clearly in our murky time represents a kind of revenge of the nerds, as outsiders from American politics and from Silicon Valley's pressure to align money and ideology sometimes see what insiders don't."
Making Billions vs. Making Ends Meet: how the pandemic has split the US economy in two. (Required reading.)
My colleague George Anders just won a San Francisco Press Club award for his elegant, deep reporting on the tough transition to the civilian job market for U.S. veterans. 
🎊Kudos: 
Fiona Spruill is moving to Amsterdam to become chief product officer at Overstory, a startup that endeavors to monitor all the world's natural resources in realtime to help protect them and mitigate climate change. Writes Fiona: "I have two young children and I want to be able to tell them I did everything I could to solve this problem."
Reid Hoffman and Mark Pincus have a new company, and Dena Cook has signed on as a partner and chief communications officer. The company, Reinvent Technology Partners, has raised $600 million in an initial public offering.
🎊Cool things you're doing: 
Eldera: Kate Burson started working on Eldera during the pandemic out of a need that she saw cropping up all around her: the platform pairs kids with vetted older (60+) mentors for virtual storytimes, homework help and company. Three months in, it stretches across 12 countries and 37 states. Kate and her team are recruiting new mentors; are you interested?
Mazi +Zo: Lizzy Klein's jewelry company has new "VOTE" necklaces in silver and gold. When you buy her "Vote" necklace, she donates a large portion of the proceeds to When We All Vote, a nonprofit dedicated to getting out the vote.
📤Share the things you're seeing with me. I'll include them on the show, write about them for LinkedIn, and pass the news on here.
**A note from the top of the piece: Nope, we haven't moved to Tupelo. We're here for a month. We've just renovated a tiny 1901 house in the neighborhood that surrounds the old, shuttered mill. We'll be down here for frequent visits, but we still live in Brooklyn!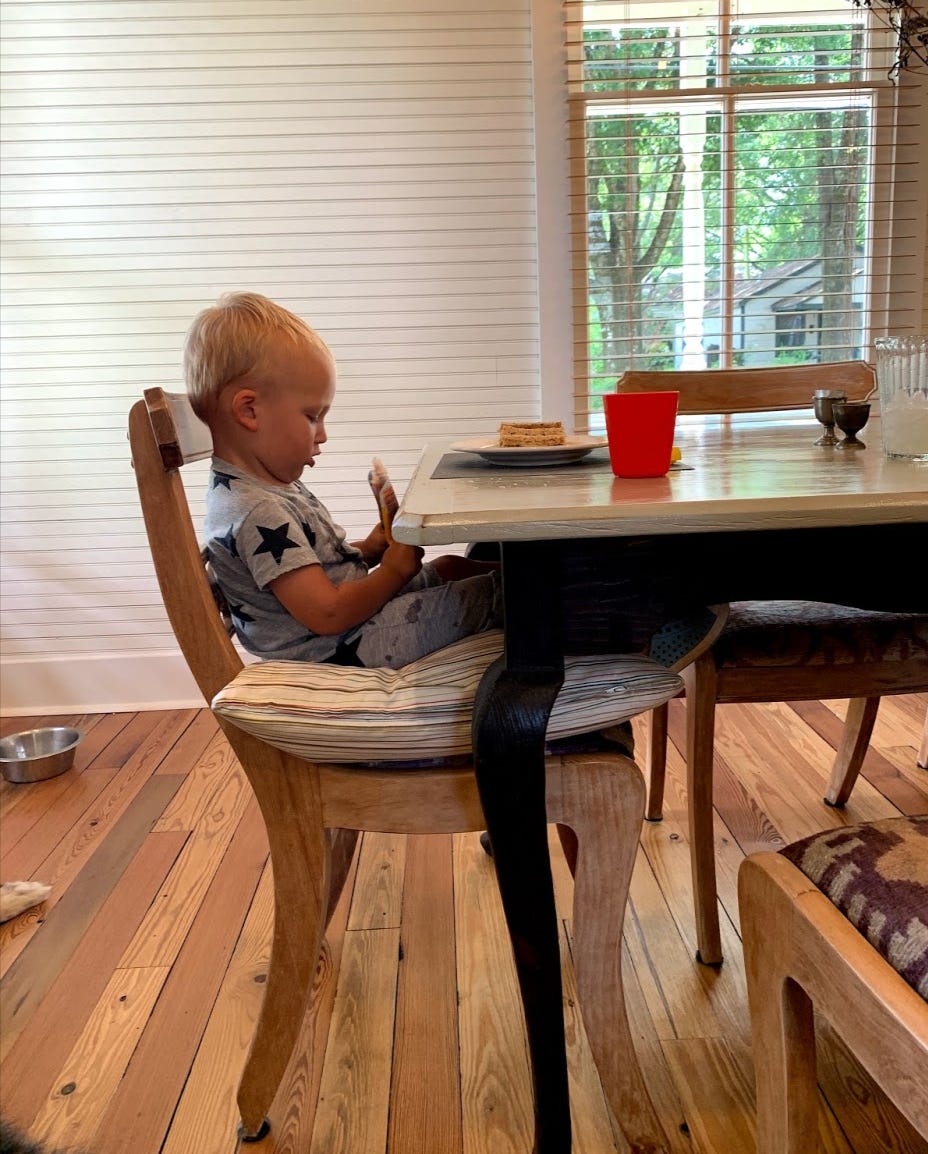 ---
***So maybe you're asking, what's this about again? You're my brain trust. I don't write for thousands. I write to exchange ideas with the small group of people I've met and who matter to me, in hopes that together we can figure out something more about where humanity is going and how it gets there. This is a team sport.