Discover more from Jessiwrites
A biweekly newsletter for people who are trying to make sense of how we live and work, and build technology that enables our humanity.
Over 1,000 subscribers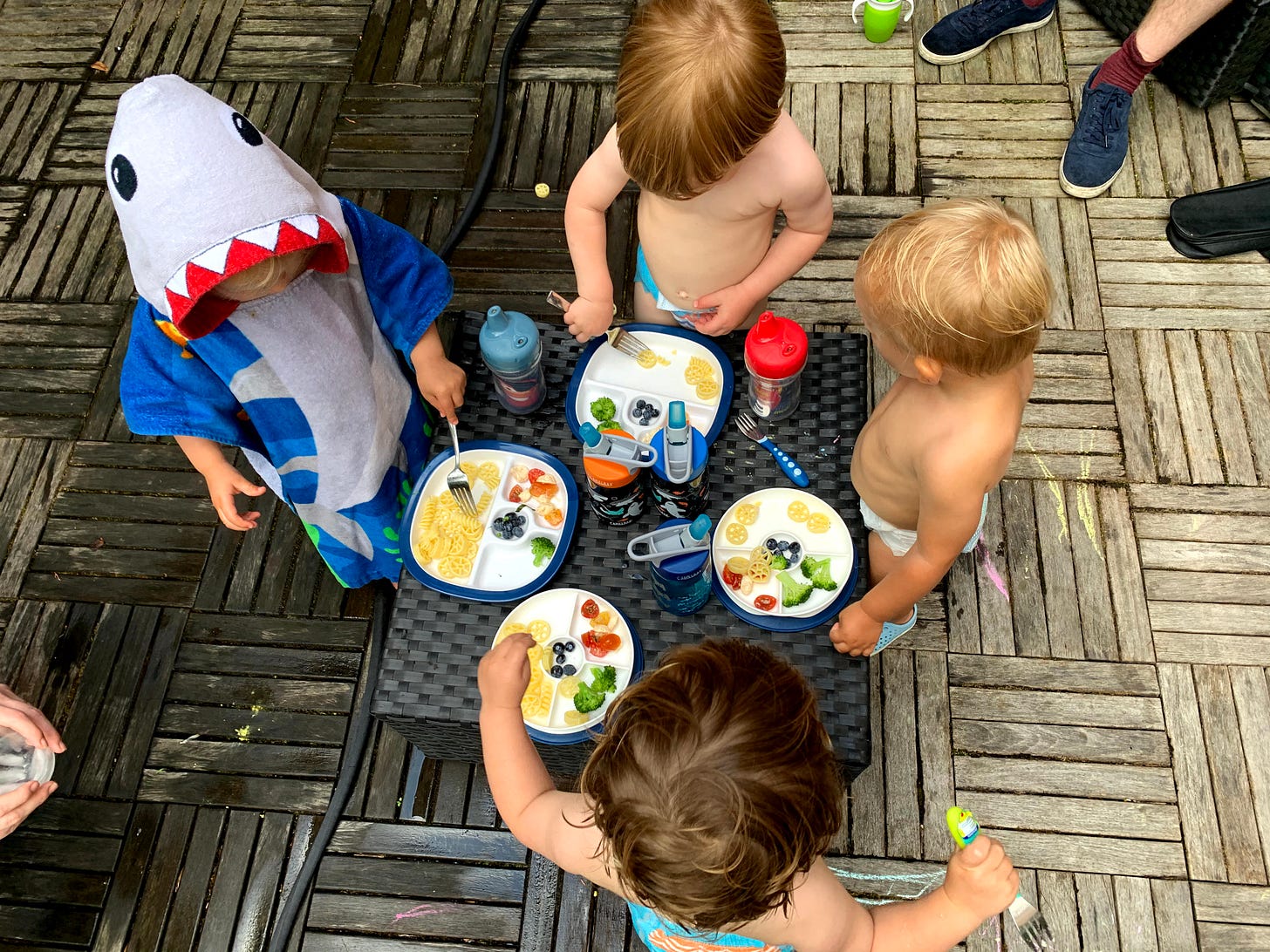 Today marks a month since we've returned to Brooklyn, and here's how we've made it work: we formed a quaranteam with a family down the street, who we knew well, and a family in a neighboring apartment, who we didn't really know at all. Between the three families, there are four toddlers.
The boys spend the day at our neighbors' apartment, which is the one space with a coveted backyard. This DIY daycare set-up now has a swing set, a kiddy pool, and a bubble machine. Meanwhile, our home has become a WeWork—minus the self-empowerment posters. At 8 am, our neighbors let themselves in and head to the basement. My wife works from the dining room table. The master bedroom is the quietest workspace, and the race to reserve it can be more competitive than booking a LinkedIn conference room. A few times a day, we all stumble out to the coffee maker, which has become the de-facto place to chat.
On Fridays, we cookout in the neighbors' backyard. It's a good time. For a couple of hours, as we socialize unmasked with adults, it could be any summer.
But the quaranteam is only as strong as the rules we've all agreed to, and every breach of the bubble is a group decision. This was easier a month ago at the tail end of Phase One, when playgrounds and restaurants were closed, and strangers still crossed the street rather than pass each other on a sidewalk. Our neighborhood has moved, week by week, through Phase Two and into Phase Three. Now in Brooklyn, restaurants set tables for outdoor dining. Friends get together at the park. Haircuts and manicures are possible. The zoo opens back up next week, as do many daycare centers. There is traffic again.
With every week that passes, my amnesia about the immediate past deepens. I can't even conjure the experience of total shutdown. It's like remembering the feel of snow on a humid summer day: impossible. And yet, although the city has opened, it's not clear to any of us exactly how we should open our bubble to meet it.
Absent absolute guidelines, we are left to muddle through these decisions in group text message threads: Nope, we don't feel comfortable with public transportation yet. Yes, take the kids to see their grandparents. No, a playdate with another child in the park isn't ok. Well, maybe it is—like, once a week. Or actually three times a week is fine if it's just that one friend. Playgrounds are open, but we can't keep our toddlers from drooling on other kids, so let's continue to avoid. Restaurants? Outside is fine, but don't go indoors. The subway for an occasional doctor's appointment is fine, but Uber is better. Actually, maybe it's worse? I don't know, try not to take the subway. But if you do, we won't expel you. 
The goal, we all agree, is to mitigate the risk of contracting and passing COVID-19. But how do we decide what constitutes an appropriate level of risk? In the absence of authoritative, universally accepted guidance, we cobble together information from the New York Times, social media, doctor friends, that amazing data scientist friend who has been working on the coronavirus response in Sacramento. We check in with the CDC, and our local government officials. We try to make all the info line up. And when it doesn't exactly, we feel it out. We turn to our guts.
I'm a huge proponent of intuition. But this matter of keeping our families safe and healthy is not a matter for my gut. At least, not when my gut is being swayed by multiples sources of competing information, from New York Times reporter Donald McNeil, who said on the Daily that he wouldn't hold his new granddaughter until he was vaccinated or immune ("I'm taking the long view. This increases the chances that both my granddaughter and I will make it to her high school graduation.") to the U.S. President, who wore a mask publicly for the first time this week.
Besides, my gut is heavily guided by my feelings—namely, a feeling that I am entitled to participate in the world because I've held back for so long. (This is the reasoning that dieters use to justify the chocolate cake after a "good week." I can tell you from experience, it doesn't serve anyone.)
Meanwhile, even as Saturday marked the first day without a coronavirus death in our city since March, the story grows bleaker in most other places. In many states, the numbers of people with COVID-19 are rising. Public health officials and government officials seem to be working against each other in their efforts to assess and curtail the problem.
It still seems too early to judge the impact of reopening in New York. So the quaranteam shuttles back and forth between apartments as we continue our group texts and chats: No, don't take Metro-North. Sure, the subway to the Rockaways is ok during off-hours. The park seems too crowded today… but on the other hand, there's a breeze. You think it's safe?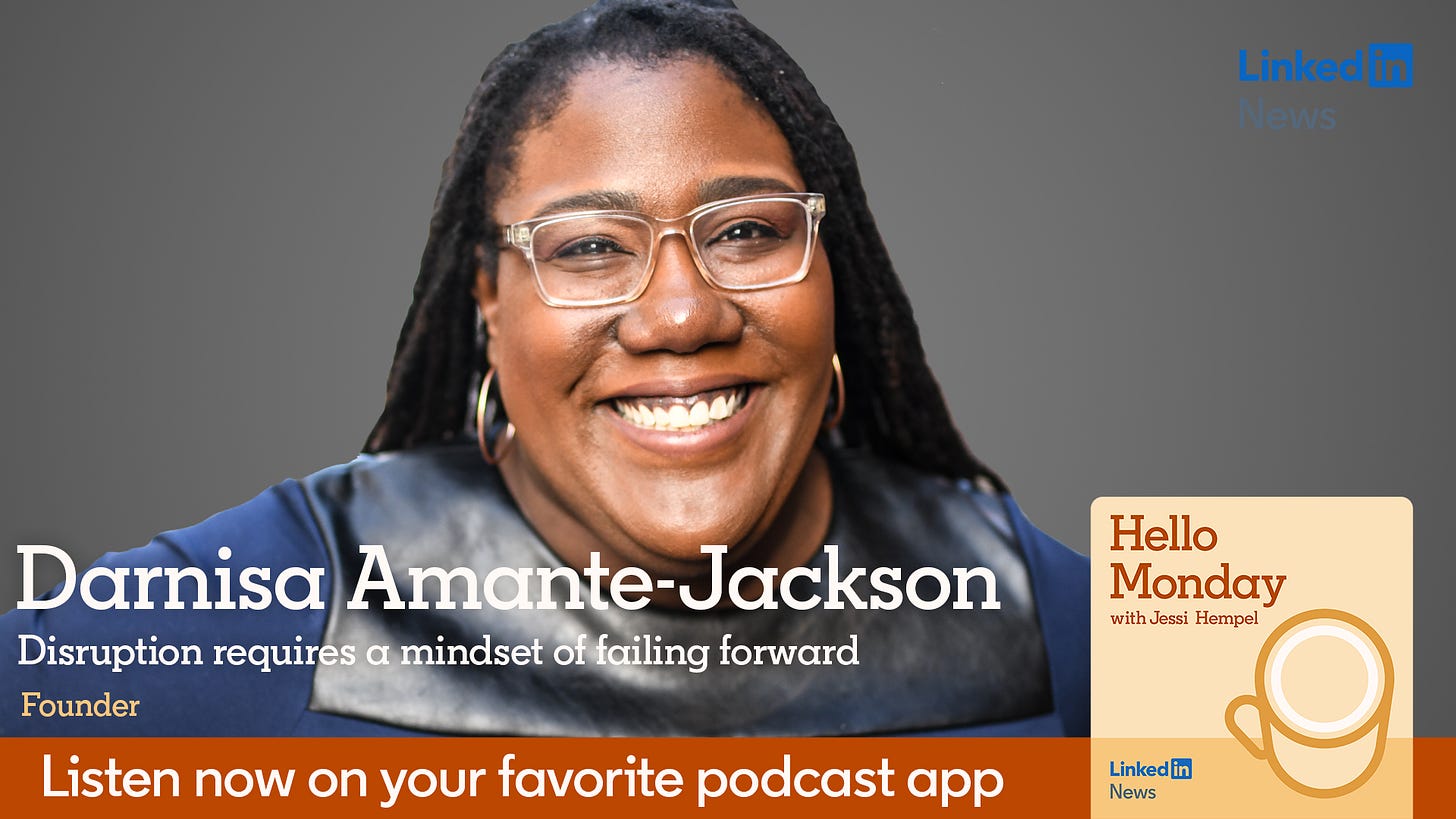 🎙Things I've made: It's been a strong month for Hello Monday. My favorite episode was certainly this conversation with Darnisa Amante-Jackson about the pragmatic work involved in addressing inequity in our organizations.
I also hosted many newsletter readers this month: Dorie Clark and Charles Duhigg joined for separate episodes addressing the hustle involved in launching a "Plan B" and the source of meaning in our careers. Reid Hoffman and I chatted about networking during a pandemic, and this week, I talked with Bruce Feiler about how to manage large, sometimes painful transitions with grace.
And, I took listeners to Tupelo to meet the entrepreneurs behind Blue Delta jeans.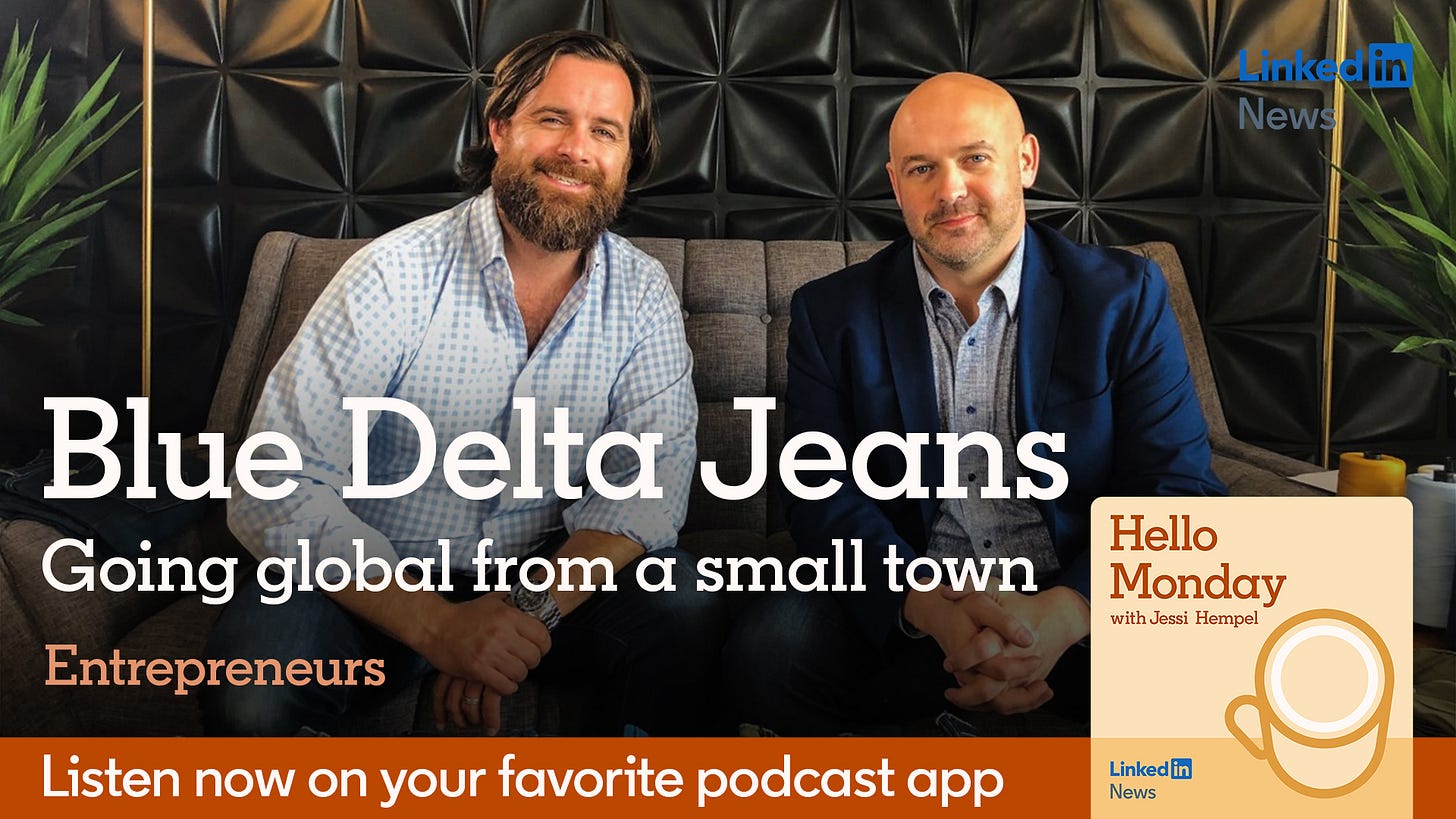 📚Things I'm reading: For a strong perspective on international students' tribulations, read or listen to Isabelle Roughoul's Borderline. A number of tech companies (including my employer) are backing a lawsuit to overturn the ICE directive that would send foreign students home if their classes go online. Lindsay Harrison helped author this amicus brief supporting the Harvard/MIT on behalf of nearly 60 colleges & universities.
In light of Aunt Jemima's disappearance, Sonia Katyal asks: Can we finally end all racist branding? This woman has cancer, and now her Facebook feed is filled with "alternative care" ads. While Americans look away, autocrats crack down on digital news sites, writes Ben Smith. The role of cognitive dissonance in the pandemic.
🎊Kudos: New Jobs!
Simone Ross is the new tech curator at TED, which just wrapped up an ambitious 2020 program last week.
Callie Schweitzer has joined us at LinkedIn, where she covers marketing for LinkedIn News. (She's getting started with a bang.)
🎊Kudos: New Life!
I've got two new nephews: Sebastian Henderson Chiller arrived on June 4. Moms Katje and Andy Chiller report that he's a chill dude, which is great as the world he's landed in is not. One month and one day later on July 5, August Kawika Hempel joined him—arriving at home, in a Very Quick Birth, to parents Evan Hempel and Keku'i Ledward. Everyone is healthy, sleepy, and quarantined in their respective homes indefinitely.
And, the newest human I know is Leah Maureen Dunham Welt, who arrived on July 6. Parents Mike Welt and Jillian Dunham report that she's sweet, cuddly and a good communicator. That's not a surprise as her parents are journalists.
📤Share the things you're seeing with me. I'll include them on the show, write about them for LinkedIn, and pass the news on here.
📤Coda: Taryn Millers-Stevens' family business has sold Thanksgiving turkeys from their holiday market in Avon, Connecticut for 69 years. Instead of calling it quits on their 70th anniversary, they're moving the celebration online and creating a new tradition called the Thankful Turkey. For every Miller Farms turkey purchased, one will be donated to a family in need through Foodshare, a local Feeding America food bank partner. This is a massively creative endeavor that aims to keep a small family business afloat. Do consider buying your turkey here this year.
And, if you're in need of a new mask…and in search of a way to make the most important point of the year…Dahna Goldstein and Alex Posen have you covered. Check out Resistance by Design:
---
***So maybe you're asking, what's this about again? You're my brain trust. I don't write for thousands. I write to exchange ideas with the small group of people I've met and who matter to me, in hopes that together we can figure out something more about where humanity is going and how it gets there. This is a team sport.